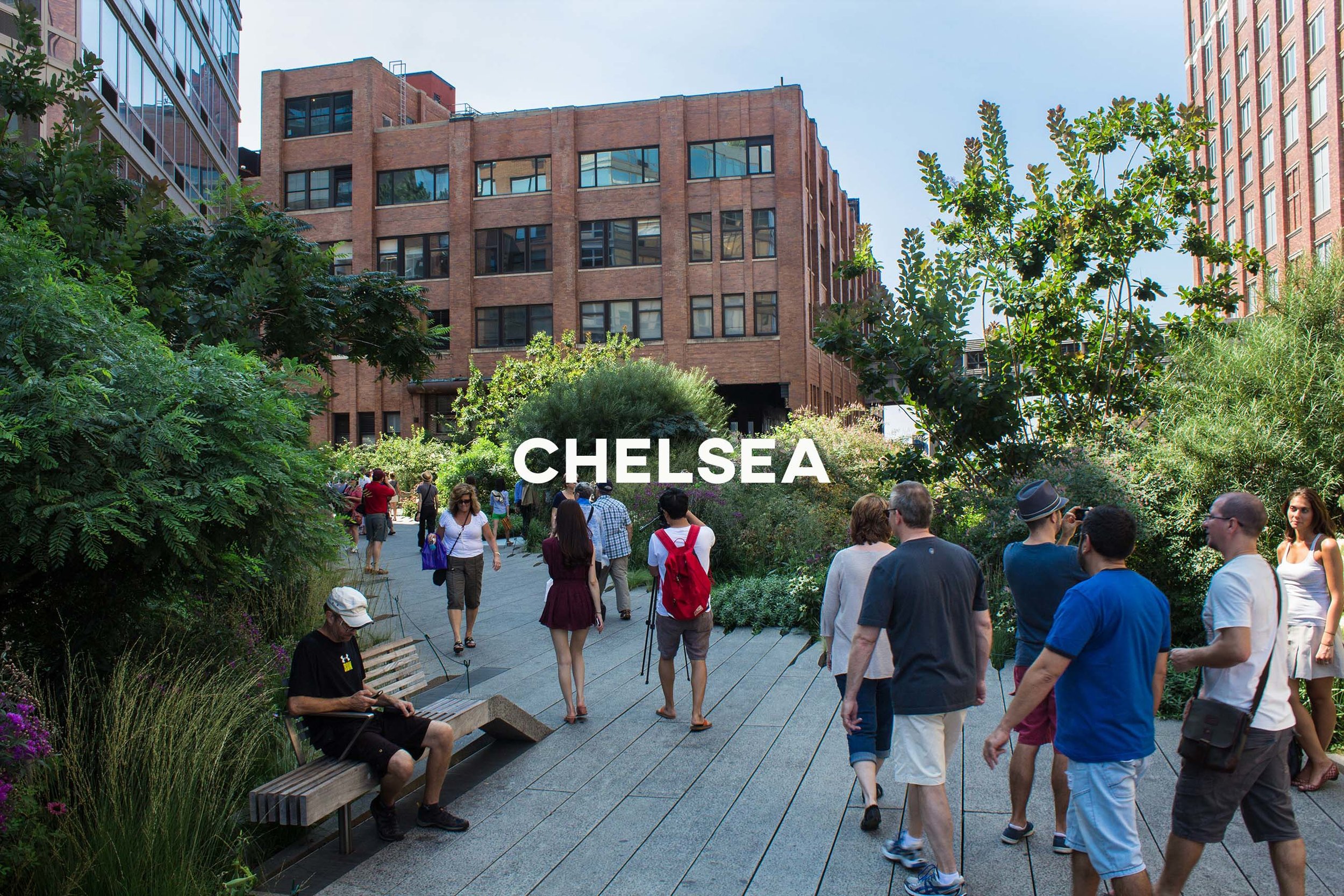 Full of history, culture, art and shopping
About:
Chelsea is known for its diversity, its shopping and its artistic influence as well as the home to branches of large tech companies. With its retail stores and restaurants showing its great social and cultural diversity, Chelsea offers something for everyone. Whether you are food fan and love Chelsea Market and the Food Network, or you are hoping to see Google's New York headquarters, you will find something here. This neighborhood is perfectly situated in between some of Manhattan's hot spots but provides a real feeling of community and still feels residential.
Location
Chelsea is bounded by 14th St. to 34th St. and 6th Ave. to Westside Hwy. The surrounding neighbors are Hell's Kitchen in the north, to the east is the Flatiron District, to the southwest is the Meatpacking District, to the southwest is the West Village, and the Garment District intersects Chelsea at 23rd St. to 40th St. along 6th to 8th Avenues. With convenient access to 3 major subway lines, outdoor space and nightlife Chelsea is perfectly located to access the best of Manhattan.
Landmarks & Scenes:
Chelsea is full of historic landmarks such as Hotel Chelsea, an emblematic neighborhood staple and Google's New York headquarters taking up an entire city block.
Food &Drink:
Chelsea is a neighborhood with a passion for food. With every type of restaurant under the sun, there is never the chance of a bad meal.
Shopping:
Chelsea Market is one the neighborhoods most famous establishments with history as well as a unique shopping experience. With everything from gourmet brownies and gelato to lobster and handcrafted gifts, Chelsea Market has it all.
Entertainment:
For Chelsea residents, entertainment is a nigh out on the town for a good meal and dancing in the area or in the nearby Meatpacking District. Another popular activity in the summer is Gallery Night on Thursdays where you can stroll along 21st through 2t7th St. and between 10th and 11th Ave.
Sports & Outdoors:
The Highline is one of Manhattans one of kind outdoor spaces. Once a train track, this elevated park now allows people to stroll along above the city with gardens and a view of 10th avenue you won't find anywhere else.
Arts & Culture:
Full of old buildings and architecture; Chelsea has a more relaxed feel that residents love to show off.
Family:
If you are looking for a fun family activity on a rainy or cold day, or any day really, head into Books of Wonder. This unique shop of children's books will help remind children of now great it can be to read a real book with paper pages.